Pre-Krete remains the standard and most widely utilized lining in commercial/industrial potable water heaters.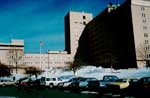 Pre-Krete G-8 was established for the specific purpose of providing our valued clients the assurance and peace of mind that their commercial/industrial potable water heater / vessel will continue to provide good clean potable water. Pocono Fabricators has recommended G-8 in potable water service since 1968. Pre-Krete G-8 is referenced on the US's EPA and FDA list of approved products for potable water.
A tank lining serves two very important purposes. It protects the consumer from the potentially dangerous effects of an unlined or poorly maintained tank as well as safeguards the structural integrity of the tank. Pre-Krete is specifically designed for hot and cold potable water applications. Pre-Krete forms a rock-hard monolithic barrier that resists temperatures up to 1000 °F and has a comprehensive strength of over 10,000 psi.
Pocono Fabricators has a network of factory trained Distributor/Applicators that will provide you with inspection and re-lining services. In considering an inspection or a re-lining of a potable water tank please take into account the following:
Safety is of paramount importance. A Confined Space Entry Program and Procedure must be in effect. All employees must be trained and tested to insure they know and understand the hazards associated with this type of work and proceed accordingly.
Experienced labor and supervision deliver quality workmanship. This experience affords a cost effective solution to your tank maintenance requirements.