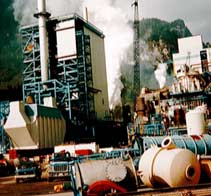 The burning of fossil fuels – coal – oil – gas, as well as some other combustible fuels such as wood, rubber and waste products, produces a corrosive gas stream. These byproducts of combustion combine with atmospheric moisture (H2O) to form corrosive gases. Specific to coal and oil – SO2 and SO4 combine with H2O to form H2SO4 or Sulfuric Acid. In order to comply with environmental regulations, removal of the Sulfuric Acid and other pollutants is required. These systems are known as Flue Gas De-Sulfurization Systems or FGD Systems. Pre-Krete G-8 is used to protect numerous items within these systems including stacks, scrubber towers, breechings, precipitators, and ductwork.
FGD technologies differ throughout the industry. Operating temperature is a key factor in the design of the FGD system. At high temperatures (above 400 °F) the condensing of corrosive gasses is less prevalent. At lower temperatures (below 180 °F) the corrosive effects of the gas stream is severe. In low-temperature applications polymer products (vinyl and polyesters) can be considered. However, the low temperatures are achieved via wet scrubbers that use cooled water as the scrubbing liquid. The concern here is a malfunction in the water supply pumps supplying the scrubbing liquid to scrubber. This results in the operating temperature going from less than 180 °F to well above 400 °F resulting in an immediate failure of the polymer lining. In the mid 70's through the mid 80's polymer based linings became extremely popular. However, due to a high failure rate of these systems during "upset conditions" a corrosion resistant lining, specifically Pre-Krete, that offers resistance to high temperatures, is now the preferred system.
Pre-Krete is used to protect numerous items within a FGD system. These are, but not limited to – Stacks, Scrubbers, Breechings, Duct Work, Blower Fans, Precipitators, Absorbers, Cooling Towers, and Boiler Water Re-Circulation Vessels. In coal-fired facilities Pre-Krete is also used to protect steel substrates from the effects of abrasion. See "Abrasion Service" for additional information.